It's all about that story
Your Brand. My Words. Perfect Match.SM
Want better words to connect with your clients?
Your brand is more than just a business; it's your identity.
You're brimming with personality somewhere on the inside, but the words are just not finding their way to your fingers as you type. You wish you could sound like one of the cool kids, but you usually end up sounding like a windbag instead. #harshyettrue
Maybe you know how to write in academic terms, and you may even have a minor in business speak, but conversational writing is not computing, so you end up with words that seem cold, unfeeling, and droid like.
While you love R2-D2 as much as the next guy or gal, you're pretty sure his language skills won't exactly reach across the computer screen and pluck your target client's heart strings. In fact you're starting to wonder if your product or service even measures up.
You started out believing that what you offer is rock and roll cool, but every time you try to write about it you end up feeling like a band geek (former Colorguard – no judgement!). It's like you're reading a textbook or a pamphlet for some sort of clinical trial. Something isn't working so you sit at the computer screen and stare blankly ahead, hoping the words will find you.
I can help!
I'm Melissa, the wonder woman behind this Brand Meets Copy operation. I help brands create conversational copy (that converts) and showcases how cool your industry can be (and every industry has a bit of cool factor).
I work best with brands who want to have fun with their copy. If you want copy that reads like a technical document I'm not your gal. Sorry!
I love SaaSy brands (Pun intended. I love a well placed dork pun…) and fall madly in love with those that have quirky mascots.
I began my love affair with words at a young age.
Brag fest: I was reading by age 2 and wrote my first persuasive "sales" letter to my parents at age 8. The pitch? Letting me keep all the kittens. The result? I got to keep one. Conversion rate? 16% Much higher than industry standards.
I've studied not only the art of writing extensively (MA in English), but I'm also obsessed with learning all I can about copy, conversion, content, and cats (wait, not cats). I'm a certified copyeditor – commas beware! (Actually, I break grammar rules all the time, such a rebel, eh? So, please don't email me a diatribe on the Oxford comma or how to properly use ellipses…) #bleh
I'm LeadPages Conversion Marketing certified.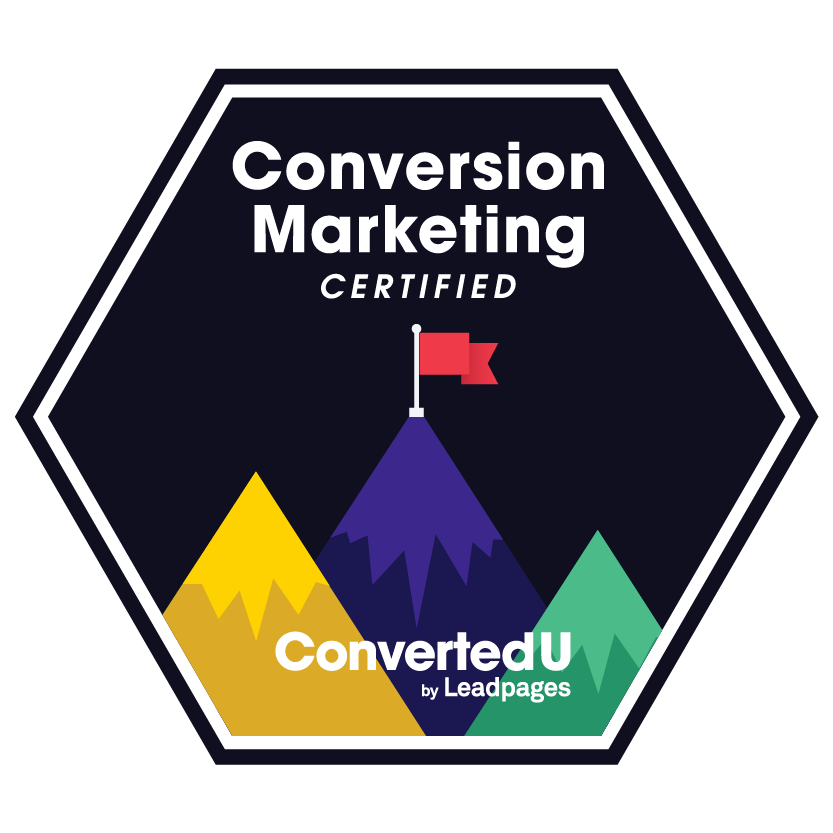 I'm also a Certified Content Marketer through Copyblogger
And Inbound Marketing certfied through Hubspot

I became a copywriter after over 12 years of freelance writing, and realizing there was a better way to get my words out to the world than answering sketchy Craigslist ads requesting several writing samples and a full body pic. #truestory
---
---
Here's my theory about your brand and the words you use to describe it:
What you say about your brand should make your perfect match clients feel instant attraction to your business and they have to get to know you more. You know, kind of like how you felt when you read that online profile of your latest internet boyfriend?
(Don't act like you've never online dated! Well, if you haven't, we might not get along)
If you came here wanting to learn a little more about me here it goes:
I love the idea of possibilities –

it's my favorite word and what gets me out of bed in the morning. Sadly, it's also what keeps me up at night because my mind is constantly reeling with ideas.
My office décor is a blend of Mad Men meets Star Wars meets geek chic

. I'm located across the way from the San Diego Comic Arts Gallery – you should totally come visit sometime!
I did a short stint in a comedy sports team while in high school and one of these days I'm going to find my perfect sketch comedy partner for some YouTube vids. Are you the droid one I'm looking for?
I'm obsessed with reading cozy mysteries and I plan to write one myself. It.will.be.epic. I've also recently fallen in love with the show Murder She Wrote. Yes, I realize my grandma loved this show and that the target market is women in their golden years. No matter! I also knit. And I wear glasses. I guess I'll fit right in when I get to a retirement community in 30 years.
In addition to writing, I'm also an actor (SAG-AFTRA). I LOVE how much of my acting training crosses over to my copywriting. Want to see my acting demo reel? Just ask 🙂 In need of an actress with great comedic timing? Drop me a line! Just thought I'd throw that out there because you never know who's reading this. *wink*
---
You made it this far, find out what's next!
Ready to find out if I'm the copywriter who can up your cool factor online, help you make a great impression on your market, and bring in those sales?
Here's how we can work together
---
"She looks through the lens of the viewer to identify their needs and how we help satisfy them. She was timely and professional and also patient and very approachable. Having someone that I felt I could trust through this intimate process was amazing! I intend on using Melissa for future projects and highly recommend her to anyone who is ready to take their business to the next level!
– Leila Oberdorfer, Brilliant Event Design